Latest News in Colin McMurray & Associates Inc.
Discover latest notable bookings each month and top news at Colin McMurray & Associates Inc.

Follow Colin McMurray Inc. news & blog
*Notable Bookings – Postings are FILM/TV & THEATRE (no Commercials)

Archived News & Bookings
KINGSLEE K. gets role in a MOW.
Movie of the Week: "Aaliayh, Princess of R&B"
JEMINI A. will be in the new tv series "Max & Shred"
KIRA G books her THIRD animation series.
She'll have a lead/recurring role in "SUPER WHY!"
YATHARTH B will be in the kid's series "Odd Squad"
RILEY M will be in the up coming tv series "Max & Shred"
JEFF CHRISTENSEN will be in the series "Rookie Blue"
MINH LE shoots 'Mail Order Murder' series.
KATAEM O gets a role in 'Degrassi'.
KRISTI FRANK will be in "Shrek" at the Grand Theatre.
Show will be in London, ON come fall 2014.
KIRA G gets her 2nd animation series with a recurring role.
DANIEL TIGER'S NEIGHBORHOOD.
GABRIEL ANTONACCI will be a part of the cast for the workshop of "The First Wives Club"

EVAN STERN records ongoing voice over campaign for 'Art Institute'
DANIEL S shoots lead in the film, "MY DAD IS SCROOGE"
SEAN BALLANTYNE has role in feature "Miracles Decoded".
GABRIEL ANTONACCI will return to the Elgin October 2014.
Ross Petty's holiday Panto: CINDERELLA.
SHIREEN HAMPTON heads out to MooseJaw to be in "Singing In The Rain".
JEFF CHRISTENSEN and PETER DEIWICK get role in TV series.
Both will be seen in 'Murdoch Mysteries'.
VIRGINIA RONCETTI will go to Buffalo this summer.
She'll star in the stage production of "Master Builder"
EVAN STERN records lead role in voice over series "Mia & Me".

RON BOYD shoots a day on 'Treasures Decoded'
SEAN BALLANTYNE has a principal role in 'The Last King"
IDO VISINTEN, LIZ WEST & PHILIP SAVAS will be in the series "Revelation"
JUDY KOVACS will be in Drayton and Grand Bend.
She'll be in the production of SOUTH PACIFIC.
DAVID PETRIE has Principal role on the series Beauty & the Beast.
KEISHA T FRASER leaves for England to star on stage in…..
THE COLOR PURPLE.
DREW H will shoot a lead role this summer in the film "Looks Just Like The Sun"
TIM EDDIS records the summer voice over of 'Wonder Bread' spots.
GABRIEL ANTONACCI goes back to Charlottetown.
Gabe will play the lead role of Gilbert in the island favourite ANNE OF GREEN GABLES.
PETER DEIWICK will be in an episode of the tv series Reign.
GABRIEL ANTONACCI & JUDY KOVACS hit the stage in Hamilton.
They'll star in Theatre Aquarius' 2014 show, CABARET.
CHARLES GORDON shoots Fear Thy Neighbor.
BERTRAND CARDOZO shoots principal role on Monkey In The Middle.
RACHEL RAIN PACKOTA, CHANDLER LORYN, MIC BOOGIE & IDO VISENTIN
All shoot roles on the re-enactment series On Line Encounters.
ROBBIE F. books role on LOST GIRL.
JUDY KOVACS books Ross Petty's yearly panto at the Elgin.
THE LITTLE MERMAID details and ticket info here.
FAYE LY flys out to Saskatchewan to shoot feature film.
And will play one of the Angels in HEAVEN IS FOR REAL.
ALEXIS WHELAN has recurring role on series LUCKY 7.
JUDY KOVACS to play BOMBALURINA…
In CATS at the Panasonic Theatre May 28 – November 17, 2013.
KINGSLEE C & MYA K shoot roles in Paranormal Witness.
DAVID VENA gets role in TV Series COPPER.
SUSAN WILSON plays principal role in Paranormal Witness.
JASMINE F will have a principal role on WORKING THE ENGLES.
Ross Petty's holiday Panto: CINDERELLA.
ASHLEY ARNETT will be in the 2014 stage/tour production of HAIR.
KRISTI FRANK will return to the SHAW Festival for their 2014 season.
KRISTI FRANK returns to Sterling for their holiday Panto, 2013
LA LOPES has Principal role on the feature film POLTERGEIST.
8 year old KIRA G. books 'supporting role' in a Television Movie.
OREN WILLIAMSON & SHANNON LEROUX shoot LOST GIRL.
RON BOYD shoots series MURDERS and MOTIVES.
EVAN STERN shoots role in the feature DEAD RIVALRY.
KATAEM O. books role on the series CRACKED.
KINGSLEE C plays Prinicpal role in ANATOMY OF ASSISTANCE.
KIRA G will have principal voice over role in pilot.
CREATIVE GALAXY is a new voice over series by 9Story Ent. Could be recurring…
RACHAEL DOLAN plays MiMi in feature film.
DR. CABBIE is a film about New Delhi -born DEEPAK CHPORA. Shooting April-May.
DAVID VENA will be in series ORPHAN BLACK.
Gabe will play the lead role of Gilbert in the island favorite ANNE OF GREEN GABLES.
MEG WALTER has principal role in series.
HEMLOCK GROVE.
CARYS C gets voice over series PEG & CAT.
5 Year old Cary's recurrs with the role LITTLE CHICK.
MEGHAN HOOPLE and EVAN STERN have roles in ROBOCOP.
Feature will be finished shooting in January, hits theatres 2014. ROBOCOP
KEON CAMERON has Principal role in BREAKOUT series.
KEVIN C will partake in the Tarragon Theatre's…
Reading of FRENCHTOWN.
SIAM just coming from his TIFF movie premier…
Books the Hallmark TV movie, BE MY VALENTINE.
BOBBY BROWN has role on WAREHOUSE 13.
As well as some stunt work.
KAMIL ORZECHOWSKI will shoot the TV Series, WAREHOUSE 13.
GABRIEL ANTONACCI & JUDY KOVACS will be at the ELGIN THEATRE.
Both will be in Ross Petty's Panto, SNOW WHITE. October 23 – January 05, 2012.
DAVID VENA shoots NIKITA series.
DAVID VENA & ASH CATHERWOOD book separate episodes of BREAKOUT.
KRISTI FRANK will be at the Sudbury Theatre Centre in 2013.
Where she's been cast to play in the stage musical SUDS.
BEN H. has a voice over role in THE 99, a series in the UK.
JEFF CHRISTENSEN will be on set with Victor Garber & Gillian Anderson.
In I'LL FOLLOW YOU DOWN.
KEIRA P. records recurring role in animation series.
check out the kids comedy series, JERRY AND THE RAIDERS.
BOBBY BROWN shoots role on ALPHAS.
…production is in their 2nd season.
REBECCA PERRY appears this summer in MID SUMMER NIGHTS DREAM.
Production is at the Rose Theatre.. Check out their shows.
HANNAH B. plays Heather Graham at age 12.
Hannah will play Amy, in the feature film COMPULSION, starring Heather Graham and Carrie Anne Moss.
LENKA MATUSKA appears in the TV Pilot BEAUTY AND THE BEAST.
Set in NYC, in 2003, Catherine's life was saved when a mysterious Beast attacked and shredded two assassins, aleady responsible for the death of her mother. Now working as a homicide detective with the NYPD, Catherine picks up the trail of the Beast and it leads her directly to Vincent, a man who took part in a mysterious military experiment that went horribly wrong.
JUDY KOVACS & BEN KUNDER return to Charlottetown.
Judy and Ben will be staring in the 2012 summer season, in both RING OF FIRE and ANNE OF GREEN  GABLES.
CHARLY A. shoots Sesame Street animation project.
ROBBIE F. gets an Actra awards nomination.
Robbie's nomination is in the voice over category for his recurring role in the series Stella & Sam. check it out on the ACTRA website.
SIAM stars in Feature Film.
He plays principal role in BABY HOW'D WE EVER GET THIS WAY.
MARK WILSON shoots PRAIRIE DOGS.
KRISTI FRANK will be in Niagara on the Lake
She'll be at THE SHAW FESTIVAL for their 2013 season.
DERWIN PHILLIPS has an episode of NIKITA.
DAVID VENA will play Guido in KICK ASS II.
GABRIEL ANTONACCI on stage at STRATFORD'S 2013 season
He'll be in both musicals, FIDDLER ON THE ROOF and THE WHO'S TOMMY.
TODD DULMAGE gets role the feature film WOLVES.
CASSIDY R lands supporting role in THE BIRDER.
This feature film also stars Tom Cavanagh. visit the site at THE BIRDER.
4 year old AUBREY Y. books role of Ivy Byers on tv series CRACKED.
The new series that follows detectives belonging to Toronto's Psych Crimes Unit.
SHANNON LEROUX to have Principal role in the new movie starring …..
the Trailer Park Boys as themselves. Shannon will play Rachel in SWEARNET.
MICHAEL MCAULEY shoots INFESTED tv series.
DERWIN PHILLIPS shoots two TV series this month.
COVERT AFFAIRS which is in it's 3rd Season and CRACKED, a new series which follows detectives belonging to Toronto's Psych Crimes Unit.
IAN M. has actor role in LITTLE PIG.
BEN H. plays Drew, in the short KISSING DREW.
Kissing Drw is a 10 minute dramatic short about James, a sexually confused 8th grader who attmept to regain his dignity afer being bullied by Drew.
IAN M, BEN H, and MCKINLEE P all get roles on DOKI.
This is an animation TV Series.
JUDE COFFEY has role in tv series WAREHOUSE 13.
DAVID VENA has role in LOST GIRL.
Lost Girl (season III).
BEN KUNDER appears in PARANORMAL WITNESS
MICHAEL MCAULEY shoots COLD BLOOD.
GRANT ROLL shoots XIII tv series.
In it's second season, XIII.
KAMIL ORZECHOWSKI gets principal role in NIKITA.
Shooting it's 2nd season in and around toronto, check out Nikita,, the series.
SPENCER P. will star in season II of WAREHOUSE 13.
He'll play the same role he had in season I.
GABRIEL ANTONACCI plays lead in
Read Richard Ouzounian's review
PETER DEIWICK is off to the West in March 2012
Starring in NEXT TO NORMAL at MTC.
DAVID PETRIE shoots THE LISTENER.
CTV series in it's 3rd season.
DAVID VENA gets role in TV Series ROOKIE BLUE.
Now is it's 3rd season.
LUCAS R shoots a FAMILY CHANNEL pilot.
SHANNON LEROUX plays a Glaive Guard in LOST GIRL.
FAYE LY scores roles on both DEGRASSI and RUSSELL PETERS Special.
MONA WASERMAN shoots TIP production of FOLLOW.
MARK WILSON and EVAN CHRISTENSEN play roles in TV Series REALLY ME.
Tv series REALLY ME.
RILEY M. shoots a role in a TV Series.
MY BABYSITTER'S A VAMPIRE by Teletoon.
JORDAN WEISE, JUDE COFFEY, DERWIN PHILLIPS and JEMINI A,
all shoot episodes this month for the new TV series, THE FIRM.
KIRA G shoots DISNEY tv pilot.
DAVID VENA is the Thug in COVERT AFFAIRS.
JUDY KOVACS will be in Cinderalla.
Over the December holiday month, Judy will be in Cinderella at the Grand Theatre in London, ON.
AMBERLEY WADDELL dances in new series.
Coming in 2012 from Epitome Pictures, Highland Gardens…now airing and called The L.A. Complex
YATHATRTH B gets role is tv show The Fifth Estate.
MICHAEL MCAULEY shoots Paranormal Witness.
DAVID PETRIE gets role in Covert Affairs.
DAVID VENA shoots Scare Tactics.
DERWIN PHILLIPS shoots Please Kill Mr. Know-it-all.
GRANT ROLL books role in pilot Saving Hope.
Show will air in 2012. More details.
SIAM has principal role on I DECLARE WAR.
This movie is about 12 year old kids playing war in the forrest. where the audience views the action through their eyes. More Details.
DERWIN PHILLIPS in US series Certain Prey.
AMANDA MOUNTFORD and ERIC MIINCH voice.
Both play ongoing superheros in the UK animation series The 99.
visit www.the99.org
YATHATH B has recurring role on new tv series.
Yatharth will star in COMBAT HOSPITAL. Show details Here.
MEGHAN HOOPLE gets role in Against The Wall.
check out the series.
LENKA MATUSKA stars with principal role.
New TV series SUITS.
ANDREW CHUNG: Dancer in film COBU 3D
A pair of star-crossed dancersin NY find themselves at the center of a bitter rivalry between their brother's underground dance club. Watch interview with Derek Hough.
MAGGIE CASSELLA has principal role on DEGRASSI
Degrassi: The Next Generation
JEFF CHRISTENSEN to star in "Flashpoint"
Jeff will play the Fire Chief in Episode 407.
JENN JASEY plays Athena's Mom in "Degrassi, The Next Generation".
Episode 1109.
ANGELO CELESTE heads to Drayton this summer.
"Italian Funerals and Other Festive Occasions"
MARK WILSON shoots role of on 'Flashpoint'
Flashpoint, CTV's drama about a big city police SWAT team, is a hit with viewers both here and in the United States. But the series is more than just an action-packed cop drama.
It was inspired by the work of an actual SWAT team — Toronto's Emergency Task Force — and that dose of reality sets it apart.
CHRIS JOHNSTON stars in 'West Side Story'.
Fountain Hall | April 5 – May 29, 2011
Chris will play Pepe from April 5th – May 29th, 2011 at Neptune Theatre in Halifax.
When love comes so strong, there is no right or wrong, your love is your life…
Shakespeare's Romeo and Juliet is re-imagined to a modern day musical on the streets of New York, where two young teenagers find love despite loyalty to their rivaling street gangs, the Jets and the Sharks. Packed with unforgettable songs and exhilarating dance scenes, after 50 years on stage West Side Story remains one of theatre's most celebrated musicals.
KEISHA T. FRASER will play Motormouth in "Hairspray".
August 11th thru til September 3rd, 2011 at the Port Hope Festival Theatre.
PETER DEIWICK to reprise his role of Stacee Jaxx in US Tour of 'Rock of Ages'.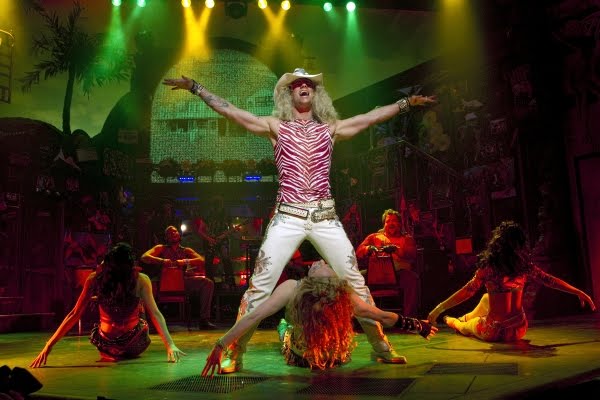 GABRIEL ANTONACCI and JUDY KOVACS have lead roles in 'Happy Day's'.
Gabriel plays Richie and Judy plays Joanie, at Stage West Mississauga from Feb 18 – Apr 24, 2011.
Goodbye grey skies, hello blue! Happy days are here again with Richie, Ralph Malph, and the unforgettable "king of cool" Arthur "The Fonz" Fonzarelli. Based on the hit TV series, this show reintroduces the Cunninghams, and the days of 1959 Milwaukee complete with varsity sweaters, hula hoops and jukebox soc hoppin'. The famed Arnold's malt shop is in danger of demolition, so the gang teams up to save it!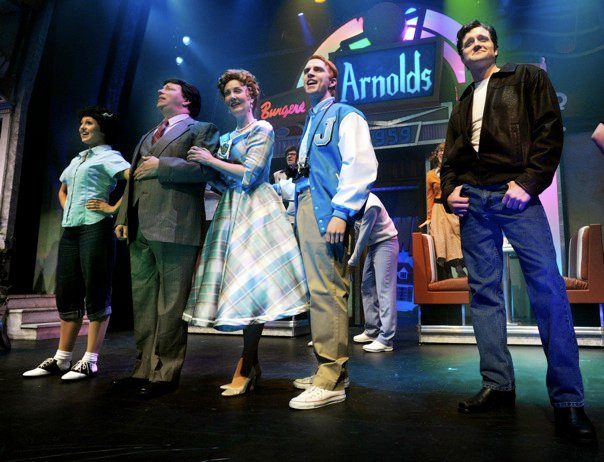 SIAM has principal role in animation series.
He'll record the role of Spinner in "The Adventures of Chuck and Friends" Let's get rolling! Chuck the truck and his friends love building things and having fun.
MATTHEW R. LAWRENCE shoots principal role in Dual Suspects.
History Canada has acquired the true crimes investigative drama Dual Suspects from indie producer Cineflex Productions.
The docu-drama starring Charles McGeoghan and Natalie Stephenson features past crime recreations.
Production on Dual Suspects is set to run through February 2011, with Jacqueline Bynon and Tara Elwood producing.
DERWIN PHILLIPS to have principal role in tv series XIII.
XIII: The Conspiracy is a Franco-Canadian 2008 TV mini-series based on the Franco-Belgian comic book series and game of the same title, originally by Jean Van Hamme and William Vance, revolving around an amnesiac protagonist who seeks to discover his concealed past.
DAVID VENA plays the perfect Thug in
Breakout Kings.
TODD DULMAGE to have role on "King"
King is a Canadian television series on Family, also aired on Nicktoons TV in the UK from 4 March 2006, and showing on POP! on March 12, 2007.
JUDE COFFEY has principal role on tv series.
ROOKIE BLUE season II
BETHANY KOVARIK in Drayton's 'Peter Pan'.
The Pantomin antomin plays November 17 – December 19th.
MARK G has recurring role of WALLY on 'How To Be Indie' on YTV
JUDY KOVACS at THE GRAND.
JOSEPH AND THE AMAZING TECHNICOLOR® DREAMCOAT
Music by Andrew Lloyd Webber. Lyrics by Tim Rice
Directed by Susan Ferley THE GRAND THEATRE, London ON.
NOVEMBER 24 – JANUARY 2
Journey to the sands of ancient Egypt. Joseph is a dreamer and an interpreter of dreams and his coat of many colors makes him the envy of his brothers. They sell him into slavery and ultimately Joseph is imprisoned. Things take a turn, however, when the all-powerful Pharoah is troubled by dreams and Joseph interprets Pharoah's dream and saves Egypt. Written by Andrew Lloyd Webber and Tim Rice, this fun, family musical is told through a wide range of musical styles including Elvis-inspired rock 'n'roll, 1920s Charleston, calypso and disco.
SCORE: A Hockey Musical to open the Toronto Film Festival.
Andrew Chung got to shoot this film on the ice this past winter with Olivia Newton John, Marc Jacob and Nellie Furtado and SCORE is set to open the film festival in September. Watch trailor here.
MEGHAN HOOPLE plays Justin Bieber & GABRIEL ANTONACCI sings and dances.
A Fractured Fairy Tale version of BEAUTY AND THE BEAST. This is not the Disney version but an original script that will be staged and produced by Ross Petty Productions at the Elgin Theatre November 26 until January 2, 2011
Heart & Stroke/Becel Charity Event
From left to right: Liz Hampton: 3SG Management, Colin McMurray, Susan Antonacci: Editor in Chief of Canadian Living magazine, and Liz Pappas: Colin McMurray and Assoc.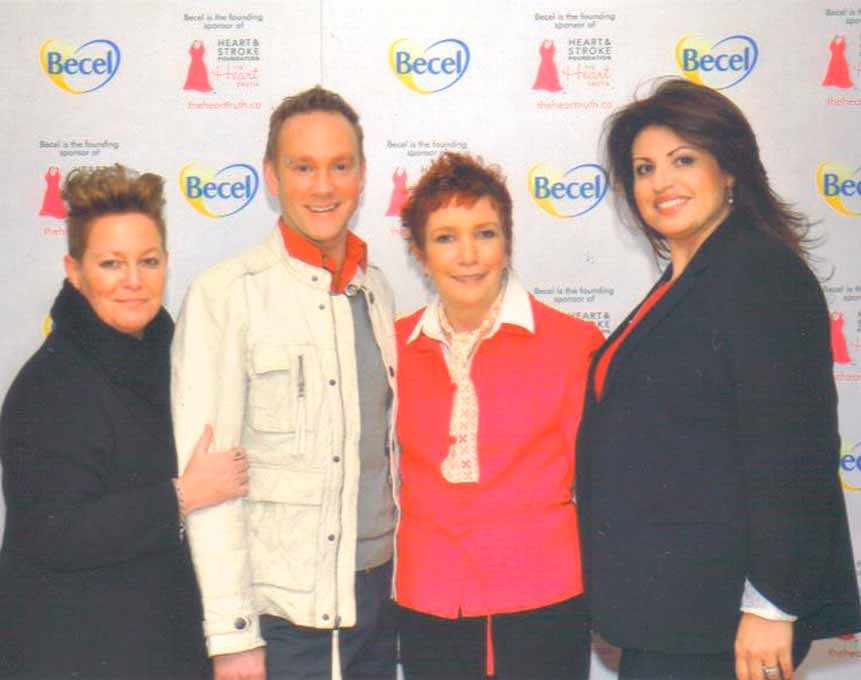 SIAM shoot tv series Unnatural History.
BEN KUNDER playing Ritchie Valens in THE BUDDY HOLLY STORY.
From June 17 – July 17, BUDDY: THE BUDDY HOLLY  STORY is playing at the Homburg Theatre on Prince Edward Island.
BETHANY KOVARIK and JUDY KOVACS filming MOW.
HIGH STAKES, starring Ashley Tisdale showed up on the Toronto set of "High Stakes" on Sunday (June 6), with her pooch Maui.
The "Aliens In the Attic" actress was clad in casual garb upon arrival, then changing into a dazzling glitzy frock as she prepped for her work as Sharah Evans, who intends to take New York by storm. When her wealthy father gives her one 'make or break' month to become a musical superstar before pulling the financial plug and bringing her home to join the family business.
MARK WILSON plays principal role of Randell.
New comedy TV seriesSHE'S THE MAYOR  shooting in Hamilton.
BETHANY KOVARIK at Huron Country Playhouse summer 2010.
DANCE LEGENDS from August 11th – September 4th in Grand Bend.
The Camera and Christopher Merk.
Working with director Brandon Cronenberg (David's son) on this short film, are ALASTAIR LOVE, SUNNIE D'SOUZA and PHILIP BORG.
HEIDI FORD: Neptune Theatre spring 2010.
Tiger Lilly in PETER PAN  . On Stage April 13 – May 30, 2010.
Mike McAuley & Henry D will fly to Chile to shoot CANADIAN TIRE.
MARK WILSON: supporting role in Daniel Craig feature film DREAMHOUSE
Daniel Craig and Rachel Weisz star!
CHARLES GORDON & ERIC MIINCH shoot roles in tv series 'Dual Suspects'.
History Canada has acquired the true crimes investigative drama Dual Suspects from indie producer Cineflex Productions.
The docu-drama starring Charles McGeoghan and Natalie Stephenson features past crime recreations.
Production on Dual Suspects is set to run through February 2011, with Jacqueline Bynon and Tara Elwood producing.
It was inspired by the work of an actual SWAT team — Toronto's Emergency Task Force — and that dose of reality sets it apart.
CAIRA CM plays principal role on Skins.
CAIRA plays MiMi, sister to her sister CAMILLE who is a series Lead DAISY, in the MTV series 'Skins'.
DAPHNE KAY has principal role on TV series NIKITA.
Season One shooting in Toronto.
MARK WILSON shoots days on the Ron James Show.
ROBBIE F to play in TV movie…'It's Beginning To Look Alot Like Christmas'.
GABRIEL ANTONACCI tapes episode of tv series, My Babysitters A Vampire.
MARK WILSON stars in ….
Warehouse 13 is an American science fiction series that premiered on July 7, 2009 onSyfy. The series followsUnited States Secret Service agents Myka Bering (Joanne Kelly) and Peter Lattimer (Eddie McClintock) as they are reassigned to the government's secret Warehouse 13, which houses supernatural "artifacts". They are tasked to retrieve missing objects and investigate reports of new ones.
The series premiere was Syfy's third largest debut to date, garnering 3.5 million viewers. The first six episodes were all among the top 10 highest rated series episodes on Syfy.
STEPHEN LIVINGSTONE gets role in series….season 4.
Murdoch Mysteries: http://www.imdb.com/title/tt1091909/
SIAM plays recurring role in THE YARD
New TV series by Whizbang, The yard is the world in microcosm; a world run by and for the kids. But as it unfolds, you'll lose sight of the fact these are kids at all and become immersed in the intricate storylines, absorbed by the intense drama, and carried away by the uproarious comedy.
AMBER K and CHAZ K play on camera brother and sister in HIGH CHICAGO.
Real life brother and sister play the principal roles of Jackie and Teddy.
High Chicago begins in Toronto where private investigator Johah Geller opens his own investigation agency called World Repairs. His partner Jenn Raudsepp is a beautiful blonde who can handle herself in a street fight.
Marilyn comes to the investigative agency because she wants to find out if her daughter Maya was murdered or why she would kill herself. Her ex-husband Rob Cantor is a successful developer and partner to Simon Birk, the notorious real estate tycoon.
TODD DULMAGE has role in the US TV series COVERT AFFAIRS
See trailer here.
JUDY KOVACS in short film RUSH.
Based on the true story of the famous Canadian band RUSH this is a comedic mock-u-mentary, that explores the roots of the band, as told by each member. Starring the real Geddy, Alex and Neil, as well as comedic actors to play them in their formative years.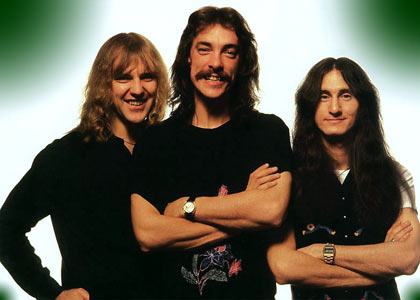 HANNAH B to play Patricia Hermin (Toni Collette) at age 12.
Julia Roberts Finds Jesus Henry Christ
Source:The Hollywood Reporter March 9, 2009
Julia Roberts is reteaming with her Fireflies in the Garden director for Jesus Henry Christ, a feature comedy Roberts will produce via her Red Om Films.
"Christ" is based on Dennis Lee's Student Academy Award-winning short film of the same name, and follows Henry James Hermin, a boy conceived in a petri-dish and raised by a loving, left-wing feminist. At the age of 10, he decides his mother's love is not enough and begins to follow a trail of Post-It notes stuck around town hoping it will lead him to his biological father.
Lee is writing the new script and will direct.
Roberts is not planning to star in the movie at this time.
NICOLE BOURGEOIS shooting US series COVERT AFFAIRS
http://www.imdb.com/title/tt1495708/
TORI B will be playing 5yr old Red in the Movie of the Week RED.
SIAM plays supporting role QUANG in feature Whirligig shooting in Nova Scotia
MICHAEL DUFAYS: Principal role CONNOR UNDERCOVER Season II
HOCKEY: The Musical
ANDREW CHUNG will be on the ice along with well known hockey players. Olivia Newton John and Nelly Furtado are also signed to star in this feature film.
FOREVER PLAID
See BEN KUNDER as 'Smudge', early summer at Thousand Islands Playhouse. http://www.1000islandsplayhouse.com/
SKINS USA
CAMILLE will play the lead role of 16 year old Cho in the upcoming Pilot of the new MTV series that has already had four seasons of success in the UK. http://www.youtube.com/watch?v=C8g34zGSiSg
ROCK OF AGES role landed by PETER DEIWICK
Peter will be playing the lead role of Stacey Jacks in the Mirvish production of ROCK OF AGES, which will open Spring 2010. For more info check out http://www.rockofagesmusical.com/toronto/about.php .
AMANDA M plays the daughter in the thriller NEXUS
See the Teaser Trailer here. http://www.cagedangelfilms.com/Nexus%20Teaser.html .
A BEGINNER'S GUIDE TO ENDINGS
SIAM shoots for the month of November, the supporting role of Todd along side Harvey Keitel.
LIVING IN YOUR CAR
Eze Anguis plays principal role of Joachim in the TV Series.
JONAS BROTHERS pictures!!
CRISTINE P. shot an X Box Commercial with the Jonas Brothers! click on jonasphotos to view pics.
TEXUALITY – Film
ALASTAIR LOVE plays the principal role of the nude male model.
CRA$H & BURN:
Taso Gounelas – Meghan Hoople – Grant Roll – Barry Aitchinson – Nic Flores: all appear in episodes of this TV Series.
MEG WALTER plays principal role.
Movie of the week, FAIRFIELD ROAD.
JEMINI A – THE BORDER
Jemini stars as Matesu Youla in episode 310.